Empire City; New York in 1899
This is a view of Manhattan across the East River at a time when the towers of the Brooklyn Bridge were the tallest structures in the city. The Fulton Fish Market is on the Manhattan shore at the far left, where the South Street Seaport is today. The painting is based on exhaustive research into the history of New York. The artist consulted numerous old maps, prints, and photos, from sources such as The NY Historical Society and The Library of Congress.
On the Waterfront: Washington DC in 1899
This painting depicts the waterfront in Southwest Washington DC in 1899. The waterfront was lined with businesses such as The Norfolk & Washington Steamboat Co, The American Oyster Co, and the Alexandria Ferry. There were lumber yards, ice houses, a firehouse and a morgue. Currently, the waterfont is lined with marinas, seafood restaurants, condos and offices.
Charleston in 1890
The painting presents a view of the bustling waterfront of Charleston, SC in the age of sail and steam. The Old Exchange building is in the center, with St Michael's church steeple at right.
New York City Serenade
The painting presents a view of New York in the 1890s from a point above Brooklyn, looking towards Manhattan. New York was a horizontal city in those pre-elevator days. The newly completed Brooklyn Bridge towered over the city. In this view, the tall spire of Trinity Church is at center, in the glare of the sun. It is still there to this day, but can be difficult to see among the skyscrapers that have sprung up around it. Liberty Island and Ellis Island are seen in the distance at left.
East River Peirs
winner of the Award of Excellence at the Mystic International Marine Art Exhibition, 2015
The painting presents a view of the piers of lower Manhattan from just below the current-day South Street Seaport. The four skyscrapers in the distance were all built in the early 1930's as part of the art-deco era race to build skyscrapers in Manhattan. These towers are all still standing, but can be difficult to see today among the many newer skyscrapers in the Financial District.
Manhattan Haze
Two tugs work the Hudson River in mid-century Manhattan.
Old London
This painting presents a view of busy river traffic on the Thames in 1899, from a viewpoint in Southwark. St. Paul's cathedral, in the distance, dominated the London skyline for generations. In the middle distance, the old Southwark Bridge spans the river. On the river are a few Thames barges with their traditional red-ochre sails.
Old Annapolis, Maryland
This is a view across Spa Creek, with the Annapolis State House on the skyline. "Ego Alley" is at center, at that time an inlet for oystermen and their skipjacks.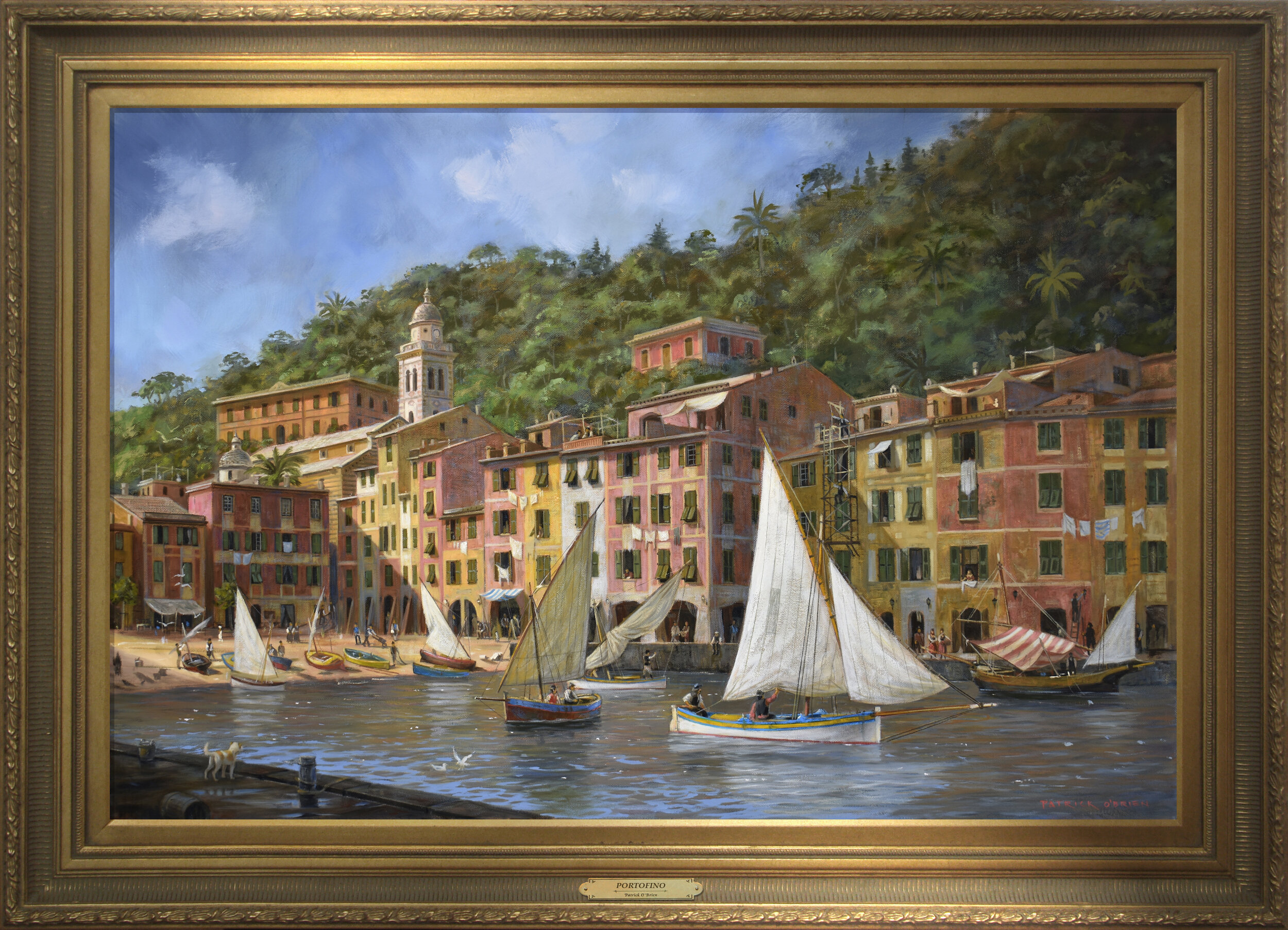 Portofino
A view of this picturesque Italian village before the age of tourism, when the fishing boats, called feluccas, still plied their trade.